The article in the issue 1:3/1:4:
The date of the publication:
2012-12-18
The Authors
Nikolai N. Nepejvoda, Stephen R. Palmquist, Igor Gasparov, Basil Lourié, Jan Woleński, Nikolay N. Prelovskiy, Nijaz Ibrulj, Kamil I. Bakhtiyarov, Stefan Goltzberg, Paweł Przywara, Roman Murawski, Andrew Schumann,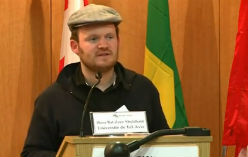 Stefan Goltzberg is Post-doc Research at University of Cambridge, Lecturer at Université Libre d Bruxelles, Member at The Perelman Centre for Legal Philosophy of the Free University of Brussels (ULB), Consultant at European Parliament, International Advisor at Springer, Séminaire Langage judiciaire et Argumentationat Institut de Formation Judiciaire. He works in Legal argumentation, Linguistics and Philosophy, looks into the various sorts of arguments: presumption, definition, a fortiori, currently carries a survey on Hebrew key-words in argumentation.
E-mail: stefgoltz@gmail.com


ARTICLE:
Review: Charting the Sea of the a fortiori
The Talmud is a sea, a sea into which one can dive or be drowned in or simply observe carefully from the shore.1 And this is not any sea, but one of the most opaque seas. Indeed, one definitely should be accompanied in the sea of Talmud. This is the purpose of this excellent book. However, while methods of explaining the Talmud are usually textual, Yisrael Ury's method is different; he creates Diagrams2 to explain difficult topics.

Commentary: